First of all let's take a look at the original set and the key features that I wanted to retain in my reimagining of it.
First and foremost I wanted to recreate a small hut with a door and two windows on a pier with a rowboat. I also wanted to make sure I included the table, chair and cup, incorporated the house number as a custom stickered tile, and the lamp/lantern and tap with bucket as brick-built items.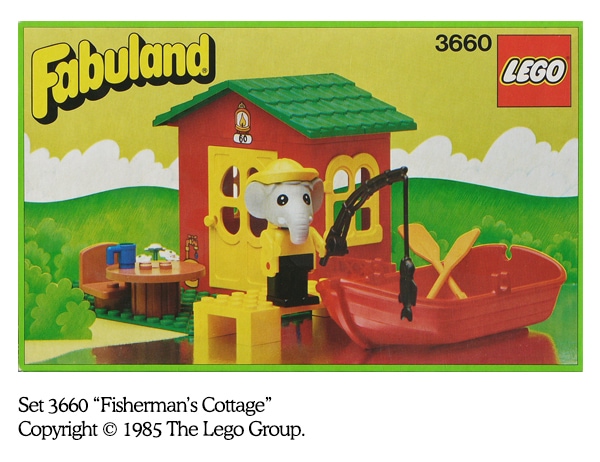 Last but not least my MOC would have to include Edward the Elephant himself in his mackintosh, sou'ester and carrying his trusty fishing rod.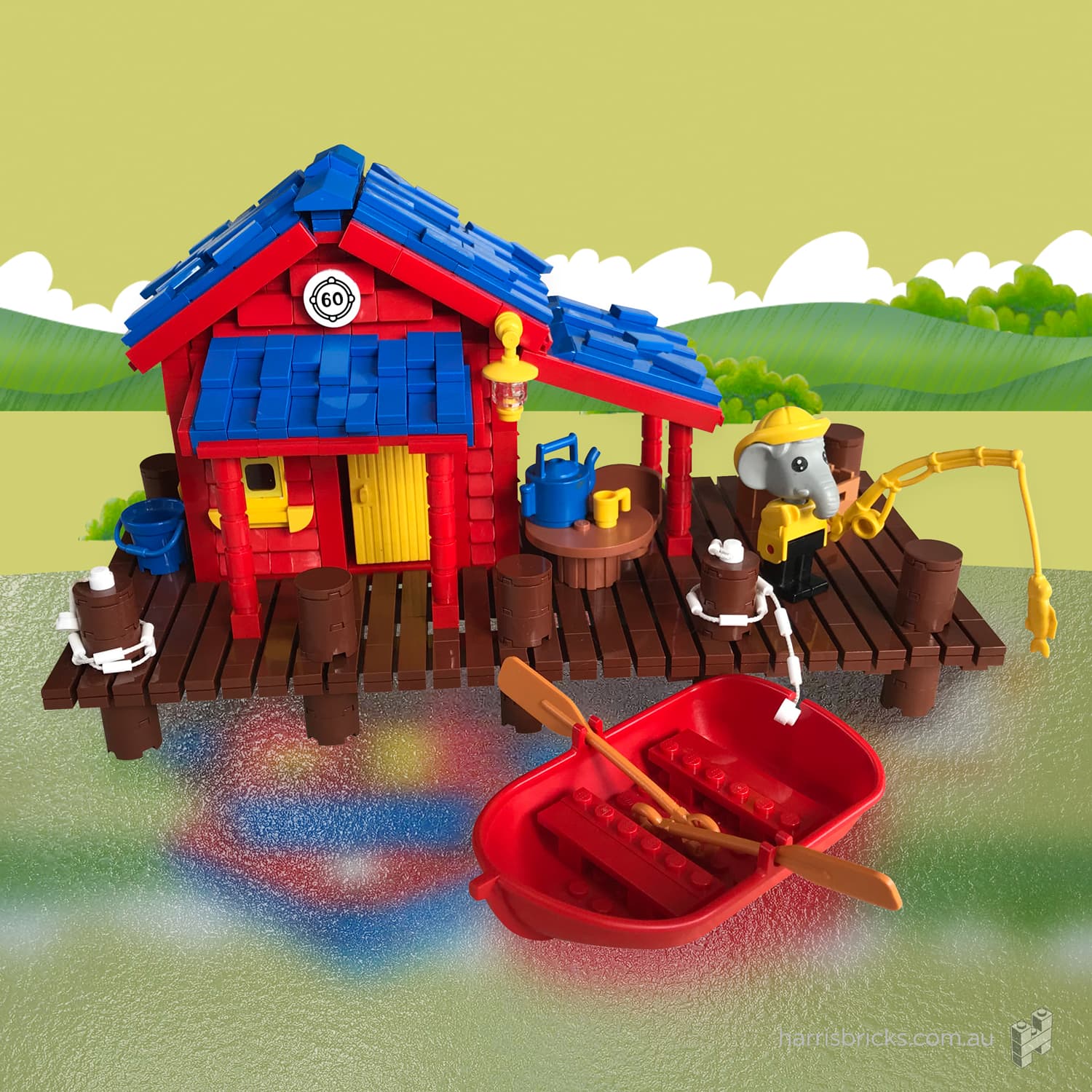 In my reimagined version, Edward's Fishing Hut, there are elements of the original set that I have changed for various reasons.
Scale
The main thing that I want to achieve in Neo Fabuland is to have a much increased level of detail from the original sets, this is best achieved by increasing the size we have to work with. My version of the pier is much larger as I wanted to have the cottage, table and chair etc sit on it rather than beside it as they do in the original set. The hut has similar proportions to the original but has two verandahs added – this is primarily about adding detail, but also the verandah to the side of the hut is there to give Edward somewhere to keep his chair and table out of the weather.
Roof Colour
In the original set the roof of the hut is green, I have chosen not to use green as a roof colour in my version as I will have green brick-built terrain and I want to ensure that the buildings contrast against it, the roof of the fishing hut is now blue – Edward must have had Gertrude repaint the roof sometime in the last 34 years.
Fishing Rod
In the original set Edward's fishing rod was brown, I was unable to purchase a brown Fabuland fishing rod so I have had to make do with a yellow one (borrowed from Cornelius/Charlie Cat). If someone can hook me up with a brown Fabuland fishing rod Edward and I would be eternally grateful.
No Flowers
The original set features some small white flowers, I have not included them in this reimagining however there will definitely be lots of flowers, bushes and trees in the completed Neo Fabuland MOC which will make up for this.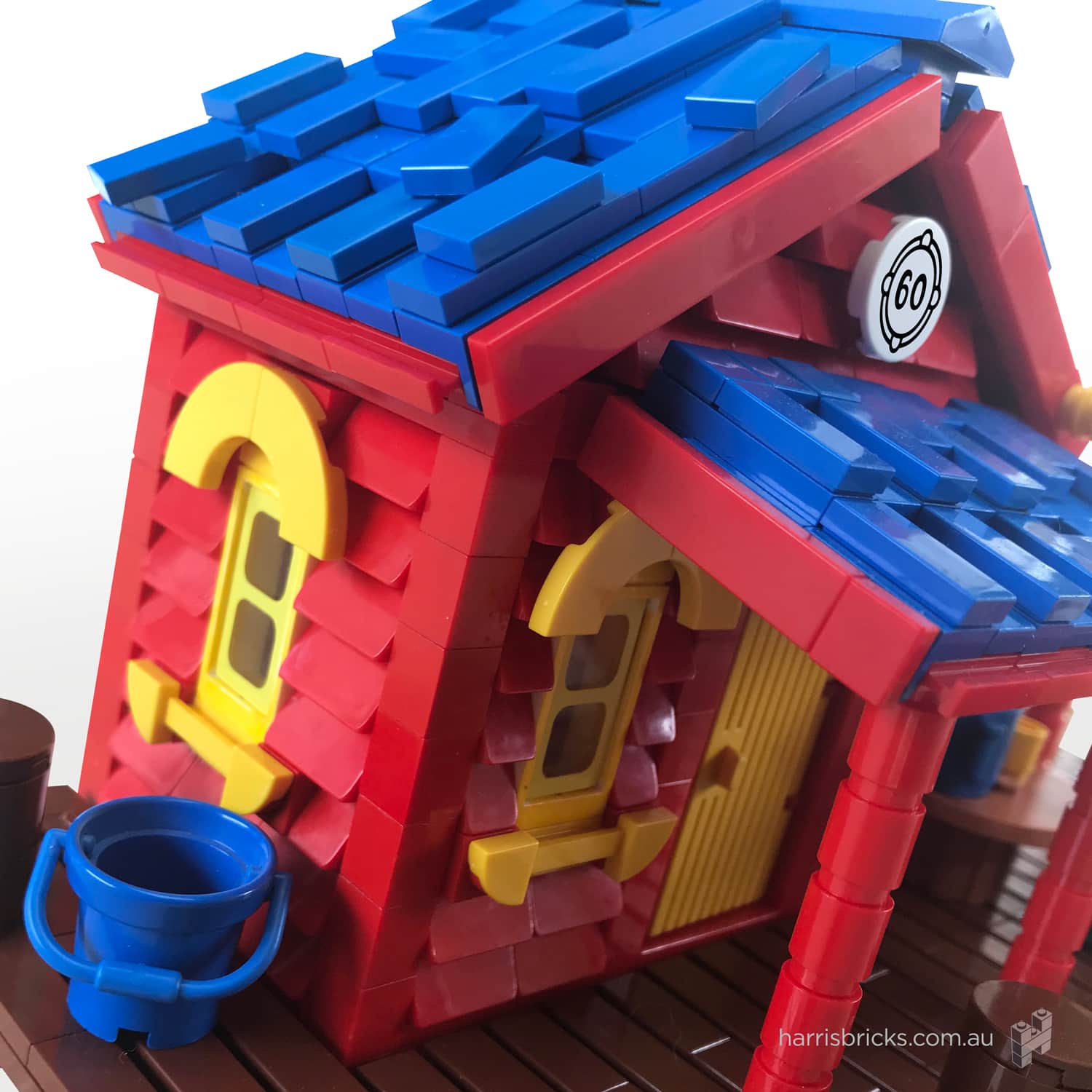 Brick-built Windows
My version of the cottage features my take on Neo Fabuland windows, namely brick-built windows with vinyl cut sticker pane details mimicking the style of Fabuland windows.
So I hope you like my take on 3660, you can see some more photos of it here, my next Neo Fabuland build that I will be showing here is a bit bigger – and unlike this one – is not based on an existing set. I am really looking forward to sharing it with everyone.